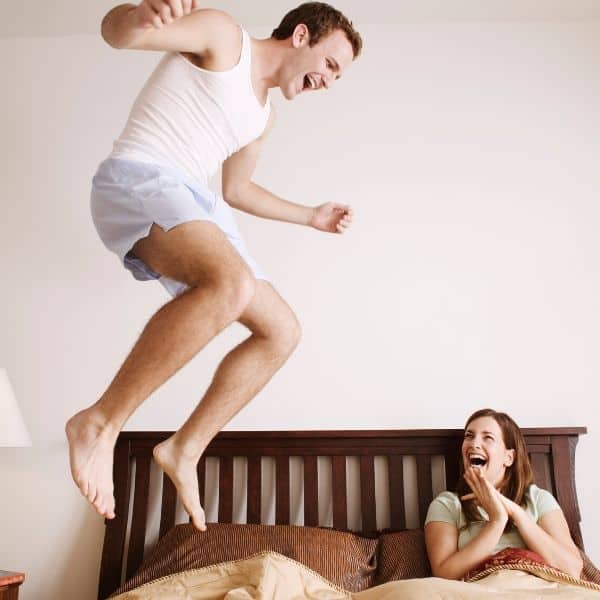 Try New and Exciting Things
AndyKerney, 4 months ago
5 min

read
1
11 things to do sexually before you're 30
You have to admit; the world revolves around sex. In bed, you think you've tried everything? If you are under 30, take advantage of your youth, your open-mindedness, and your curiosity by breaking the rules and going out to discover new sexual practices. Here are some of these practices that you must test before your 30th birthday.
1.A masturbation contest
You spend your night in bed, and there's nothing interesting about cable. Spice up your evening by changing your sex routine. Why don't you try something new, even more, exciting than sex, and a lot more fun. ? Make a mini-masturbation Championship; the rules are simple: you masturbate, and the first one who enjoys wins the prize. Careful though, you can look at yourself, but not touch yourself. Rather, it is an original concept not!
2.A one-night stand
Recently single! Why don't you take advantage of your freedom before you re-enlist? Go hunting, and experience "one night" by not thinking about tomorrow and what will become of your relationship with your one-night partner. Find a girl, and offer her to sleep with you, unattached. This little adventure will be a new way for you to explore your sexuality without expecting anything serious. The thing about this practice is that spending a night with a perfect stranger will make you give it all you can, and sometimes, it always ends in very intense sex.
3.A sex marathon
The sex marathon requires Herculean strength because sex is gonna be so much fun. To get out of the ordinary, book a hotel room, and lock yourself in there with your partner for 24 hours. The goal is to make love relentlessly; it will be an opportunity for both of you to discover your limit, that's why it's called a sex marathon.
4.The ice game
For a successful preliminary, use ice cubes. Put an ice cube on your mouth, and walk it over your partner's body. Feeling hot and cold at the same time, will give her intense thrills and excite her to the core. In a spirit of sharing, ask your companion to do the same by going through your body with his mouth and the ice cube.
5.The second hole
It is not to encourage you to adopt the second hole in your sexual practices but tries even once even if it is just to feel the feeling it gives, but also so that you can satisfy your curiosity. Does it hurt? Is it more comfortable? Besides, it doesn't cost anything. That's right, there's already the vagina that's made for it, and that satisfies amply, but who knows, maybe you could love it.
6.Role-playing
Surely, you've already thought about role-playing, but you're afraid of your partner's reaction. If like you, your half appreciates the original frolic well, you're in luck. Offer a new game instead of the monotonous positions you take each time you make love. Just for one night, play Batman and instead of taking him to your bat-mobile, take your other half to the world of fun. It is a game quite fun, and excitement will be provided!
7.Sex in water
Making love in the water doesn't necessarily bring you back to a beach. Besides, there's a good chance we're spying on you. However, there are several places where you can do it without being seen by everyone as your shower. Offer your partner simply to do it differently, away from the bed. Alternatively, you can also suggest taking a midnight swim in the pool, the strong feeling is guaranteed!
8.Alcoholic sex
Let's face it, sex under the influence of alcohol will not be the most successful sexual experience of your life, but still, you will get off on it. When you're under the influence of alcohol, you give it all away, and you only have one idea in mind, making love. You might even surprise yourself by doing things you would never have done if you were sober.
9.Sex in a public place
Making love in public is even more exciting than hiding in a room, because you still have that fear of being spotted, and that will only make you more excited. But still, don't exaggerate by doing it in a park or a place full of people. For example, you can have fun sneaking discreetly into a wooded area or a locked office. You have a choice, but make sure it's comfortable.
10.The ejaculation game
To make sex last and to satisfy your girlfriend, no longer be an early ejaculator, play with your pleasure by making a small contraction and at the moment to come, stop everything, and go out. Once you're not excited, you can resume. If after a while you can't take it anymore, you can let go. The goal is to achieve the ultimate and most powerful orgasm of your life.
11.Sex with someone forbidden
Having a forbidden person in bed is total ecstasy. You've long fantasized about someone, in particular; maybe it's time to fulfill your fantasy. Even if this adventure is socially forbidden to you, think of the present moment, remorse will come later if there will be. Just be careful, because if you get caught, the consequences will be disastrous.
Related posts